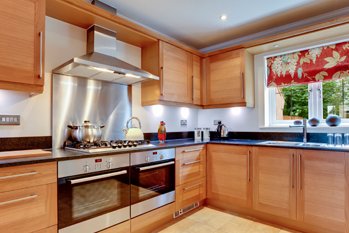 The right kitchen cabinets can make or break the functionality and style of your kitchen – not to mention your budget! Don't start stressing out just yet! Here are a few tips to walk you through the process of choosing new cabinets – from start to finish!
Door Style – Cabinet door style is important. The three main options you'll have to choose from are inset, flat, or Shaker style. When it comes to kitchen remodeling, door style will often be your biggest expense, but it doesn't have to be stressful. Take your time deciding which door style best suits your home's style.
Hardware Style – After you've chosen the style of your kitchen cabinets, the next thing you need to take into consideration is the hardware. Even if you have chosen a simple Shaker style of cabinet, your choice of knobs and drawer pulls can produce a significant effect on the overall finished look of your kitchen.
Molding – Adding custom molding is the simplest method of making any type of cabinetry look expensive and high end. Whether you choose to add edge molding to your new kitchen cabinets or crown molding to your existing kitchen, it can help produce the final results you are envisioning. In addition to molding, you may wish to consider adding other decorative elements, such as toe kicks, corbels, aprons, and supports.
Whether you are building an entirely new kitchen or remodeling your existing one, it is important to keep universal design in mind. Clever finishing touches and accessories will be what makes your kitchen accessible and comfortable for everyone. If you need assistance choosing kitchen cabinets or kitchen remodeling, place your trust in the expert staff at Creative Building and Remodeling. Family owned and operated since our inception, we specialize in crafting creative solutions for your home. Contact us today for a free estimate!