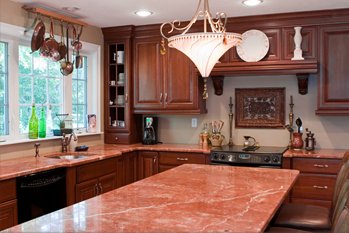 If you've been looking at the same drab old kitchen cabinets day in, day out for the last several years, it might be time for a change. You probably know that the problem is bigger than just a new paint job, but you might be reluctant to commit to a bigger project because of the cost and effort involved. Luckily, there's another way to get your kitchen cabinets looking spiffy and new, one that you can do at a fraction of the cost of a full remodel: kitchen cabinet refacing.
Refacing Costs Less
When compared to the huge expense of a full remodel, refacing your kitchen cabinets is a comparatively inexpensive option, one that allows you to get your kitchen looking like new without tearing apart the whole layout and installing a new one. It's an affordable option for people looking to revitalize their kitchen without dropping big money on a remodel, and the amount that it will add to your home's market value will more than cover the expense of a refacing.
Time
In addition to being expensive, a full remodel is a long, drawn-out project that would leave you without access to your kitchen for a huge stretch of time. By comparison, refacing is a quick, simple process that will get your kitchen looking beautiful in far less time than it would take to do a full remodel.
Style
There's a huge variety of styles available for cabinet refacing, and you're sure to find one that suits your taste. If you like your kitchen layout but just want to give it a makeover, refacing is definitely the best option.
If you want to walk into your kitchen and see a beautiful and inspiring new room, put your trust into the expert and friendly staff at Creative Building and Remodeling. Let us design your dream kitchen, and contact us today!